A Country Christmas Unwrapped
Dec, 2018
As designers who love detail, we are in our element at Christmas. After completing the FF&E, interior decoration and bespoke commissions for this project last year, our client asked us to help dress their listed Georgian rectory for Christmas.
Dress a mantelpiece with foliage to create a natural garland. Use a mix of greenery and add berries and late autumn foliage for depth. Here it complements the hand marbled bookbinding paper that clads the chimney breast and the lampshades, made by hand, using vintage sari silk. Eclectic baubles hang from the antlers. Catching the candlelight they cast a festive sparkle.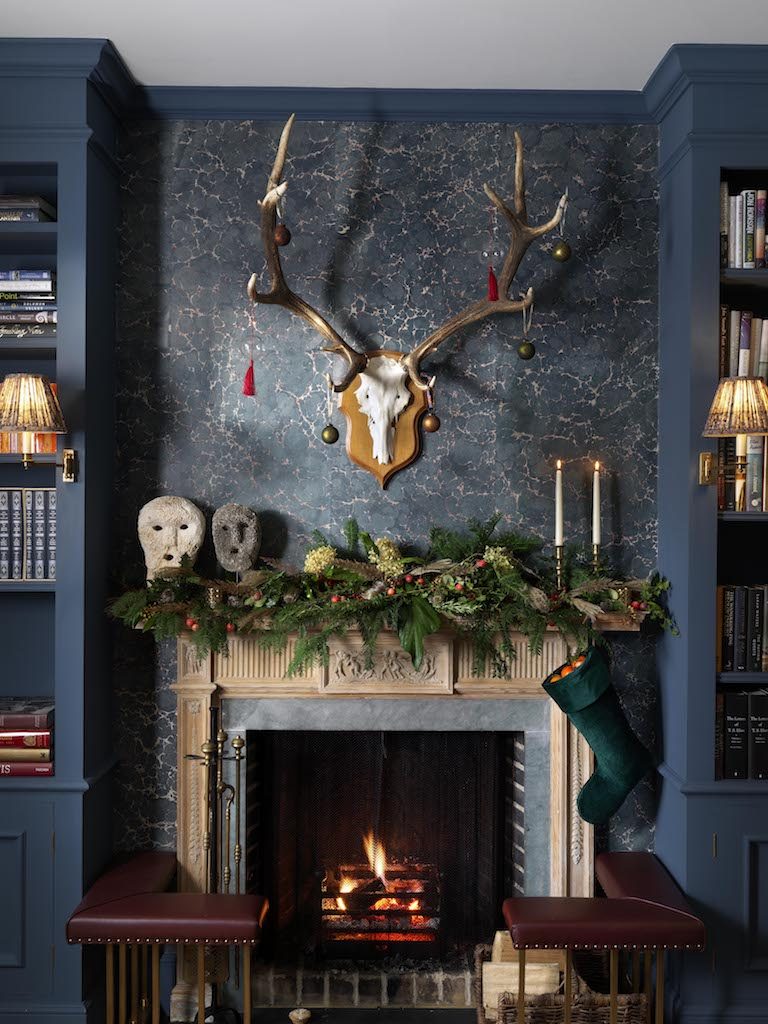 This Christmas we are working with Max. Max is a five year old adventurer. But before setting off to explore the world, he is getting prepared for the challenges closer to home. All he wants for Christmas is a Wigwam!
In this serene formal dining room, the classically proportioned Georgian window is the perfect backdrop for the table set for a feast.
Light floods in and bounces off the shutters and walls all painted in Pigeon by Farrow and Ball.
We've kept a neutral palette for the table décor, adding a snip of holly to each cracker. We love the chairs in here – all from the Georgian era and all upholstered in the same fabric. The pairs are eclectic though, originating from Italy, Northern Europe and the UK.
Max's sister, India, is three, and she prefers the luxuries of life and likes pink. We sourced her crowns from a remote village in north Wales. The walls are in award-winning Cuisse De Nymphe Emue by Edward Bulmer. The beds are made bespoke for our young client and sleepover guests.
All she wants for Christmas is to be a princess!