Awarded "Best Interior Design – Private Residence London". This all-encompassing project started with the complete reconfiguration of the space and took us, and our trusting client, on a journey of truly individual design and decoration.
This project was about listening, reflecting and proposing exciting and practical design solutions which appealed to the husband as well as the wife. Our focus was on fine craftsmanship and attention to detail, all of which was delivered with tremendous care.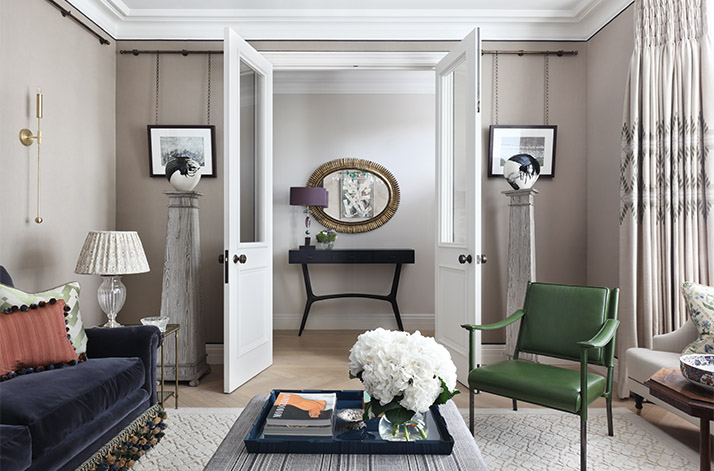 Previously accessed by a single door, this sun-filled room was seldom used by the family. To create more flow within the home and to make the most of the natural light we designed full-height double doors – an architectural feature that we then continued throughout the rest of the project.

Quality, comfort and detail were paramount to the client. For a seamless scheme we sympathetically reframed existing art and reupholstered a much-loved sofa to coordinate with our carefully sourced antique and contemporary pieces. Bespoke designs were crafted for us and are the finishing touches to this comfortable and eclectic room which combines classical features with colour and contemporary detailing.
The island in this kitchen is an exotic statement. Book-matched Burr Walnut fronts are framed with an antique bronze trim and combined with a Honed Calacatta Caldiamarble worktop. The wall cabinets are hand-painted in Tanner's Brown – a rich dark palette that created the perfect backdrop for us to inject colour into the room with soft furnishings and artwork.
Working within the confines of the original staircase void we created an inviting and spirited approach to the basement level. Listening to our client's request for drama and scale we installed Rupert Bevan antique mirror to the walls to visually extend the width of the staircase and we sourced the neon 'swimming lady' from God's Own Junk Yard.
Designing for functionality we commissioned specialist decorators to paint this bespoke American folk-art inspired shoe cupboard. Gio Ponti style chairs add the urban touch whilst the charming 1960s stone sculpture flanked by Napoleon III pique fleurs complete the look. Practical and beautiful.
The Tibet Clarence House wallpaper in this cloakroom provides a fabulous setting for the 1920s Queen Anne style red and gold Japanned Chinoiserie pier mirror. The contemporary celestial pebble bronze wall lights from Ochre complete the scene.
Hand sketching is an integral part of our design process and the perfect way to communicate the design proposal to the client, helping them to visualise how the finished scheme may look.
We are enormously grateful to our client whose project enabled us to work with the finest craftsmen and to demonstrate our unerring attention to design detail that contributed to us winning this much appreciated award.